I'm excited to share a new demo reel I'm planning to use to raise the profile of my work as a composer for films and commercials.  I thought I might as well get whatever feedback you generous folks may have.  Let me know what you think.  Thanks!
We shot this video while our cast was in the recording studio laying down vocals for "Something 'Bout The Blood," the opening number from The Breakout: A Rock Opera.  Warning — it's highly potent and addictive — I've been watching it, like, every hour (even though I wrote the song and have been listening to various versions of it for, like, two years)!
As an obsessive watcher of videos on Broadway.com of actors recording original cast soundtracks, I am over the moon to announce that we'll soon be releasing a Broadway.com-style video of our own, featuring our actors performing "Something 'Bout The Blood," the opening number from The Breakout.  Here's a sneak preview — enjoy!
I suspect this will be old news for many of you, but The Breakout: A Rock Opera, the show I wrote and produced that was performed on stage in May, is making its journey to the small screen, a/k/a the web!
I'll be teaming up with award-winning director Jenn Page, who has directed feature films, music videos, and — yes — other musical webseries!  Because the musical webseries is such a new art form, finding someone who shares my burning, inexplicable need to produce more of that type of content was quite a coup.
In case you've somehow missed my constant gushing about it on Facebook and Twitter, the show is about a high school misfit kid's quest to rescue the girl he loves from a psychiatric hospital.  We're almost done with our casting, and we've been assembling quite a remarkable group of young talent, just as we did with the stage version.  Once we start rehearsing and recording audio, I'll have quite the buffet of musical morsels to share with you all.
Talk to you all again soon!
Chris
I put together the music score for this marketing video by an internet security provider, CyberAdapt.  I was going for the light, bouncy approach you've probably heard in ads for iPhones or Google — I think the desired effect was achieved.  Enjoy!
You've seen the mostly candid backstage photos from the live performance of The Breakout — now, feast your eyes upon some photos of the actual show!
Just to make sure you're up to speed, a 20-minute excerpt of The Breakout, a musical I wrote, was performed at the Play Cafe Musical Showcase in San Francisco.  Due to last-minute casting issues, I ended up being part of the cast as well.  A bit of suspension of disbelief was probably needed for the audience to imagine me as a surly teenager, but generally I was very happy with how it went.
And here are some superb-quality snaps taken from the sold-out audience:
Our female and male leads — Juliana Lustenader as "Scara," and Jesse Cortez as "Albert."  In the background are Scara's hopefully surly-looking friends, "Rat" (Emily Marsh) and "Jake" (Me).
The sold-out house at the Stage Werx theater in San Francisco.
Totally looks like "Seasons of Love" from Rent, doesn't it?  At least, you know, the way that we're standing.
The superb Amy Meyers (left) as "Ms. Fancher," Scara's high school teacher.
Looking forward to sharing the full-length version of the show with you soon!
I'm enthused to announce that Steve's Quest Episode 3 is in the proverbial can!  I know it took a long time (the visual side of a project like this can be lengthy and costly), but I think you'll find it's our best work yet.
Feast your eyes and ears — and, if you enjoy it, please "Like" it on YouTube, because that helps us get the word out: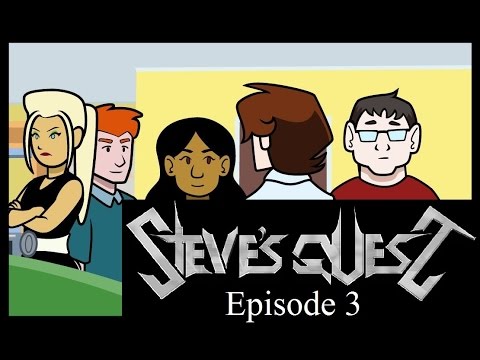 Oh, in other news — I didn't want to say too much about this before Episode 3 came out, because I was mildly embarrassed by the fact that we had so few episodes posted, but Steve's Quest won the prestigious IAWTV Award for Best Animated Series!  And we've got the semi-exclusive photos to prove it!
This is me accepting the award at the IAWTV Award ceremony in Vegas — I even got to give a brief speech.  Unfortunately I forgot that I might need to prepare one, so I shouted something about how we should all do more Internet musical theatre and sat down.  It was still well-received.
The view from the window of my room at the Treasure Island hotel on the Vegas strip.  It's a beautiful area, although I find slot machines alien and intimidating.
The red carpet at the IAWTV Awards.  As you can see, this was not just a square of red carpet made to look like a longer one by various forms of camera trickery, like some of the ones I've been on before — this was the real McCoy.
This photo was taken by a Brazilian gentleman I met who has a hilarious (Portuguese-language but subtitled) series called Oposto do Sexo.
Enjoy the episode — more icy-hot content is in the pipeline!
Well, we sold each and every one of the 99 seats of the Stage Werx theatre in San Francisco.  And in fact, we could have done another sold-out show, according to the producers.
Due to last-minute casting issues, I ended up performing in the show — with only a week left, I was really the only remaining choice because I obviously know the songs well enough to fill in.
Generally, I was very happy with how it went — those days in early April (seemingly a lifetime ago) where I got up at 4:30 a.m. repeatedly to arrange my songs for piano and vocals paid some dividends.  My voice unfortunately was kind of scratchy during the show, but thankfully I was a supporting character who mostly sings while other people are also singing!
And here are some semi-exclusive pre-show pics that indubitably prove how fun it all was.
Outrageously wonderful cast members Emily Marsh, Amy Meyers and Jesse Cortez.
Our fantabulous female lead, the powerfully-voiced pixie Juliana Lustenader, warming up.
Emily said I look menacing in this shot but that's actually what my smile looks like.
And for the piece de resistance, me sacrificing for my art by wheeling a leather office chair down the street (it's a long story).
But The Breakout is far from over — I'm doing some rewrites and getting ready for the film version as we speak (or at least, I'll resume doing that after I'm done with this post).
I don't think I've talked a lot about this project here because I haven't had much to share about it except for rough, home-recorded demos that sound kind of like they were recorded underwater, but for more than a year now, I've been working on a musical webseries called The Breakout.  But now, there is more than enough stuff to share about it!
The Breakout is about a misfit high school kid's quest to rescue the girl he loves from a psychiatric hospital, and the weird friends he makes and adventures he has along the way.  And on May 3, 2015, in San Francisco, California, excerpts from the show are going to be performed live on stage!
As part of a showcase run by a Bay Area theatre group called Play Cafe, we are going to perform 20 minutes from the show, and excerpts from shows by a few other Bay Area-based musical theatre writers will be featured as well.
To fit into the 20-minute format, the script needed to be significantly cut, the songs needed to be revised, and I needed to arrange the whole thing for piano — which means I didn't get a lot of sleep over the past few weeks.  But now, I'm back to at least 5 or 6 hours a night, because most of the front-end work is done.
Oh, by the way, I'm also playing a supporting role in the show!  Hey, at least I won't have to memorize the lyrics, as I've heard myself singing each song probably thousands of times.
I'll be sharing photos and clips from the rehearsal process here soon — for now, if you'd like more information about it, you can check out (and like!) its Facebook page.
Yesterday, me and Robin Yukiko, my Steve's Quest co-star, appeared on the Super Geeked Up podcast.  We sang some carols with the lyrics changed to refer to geeky pop culture phenomena, talked about our show, and played some movie trivia games.  I'm sure I need not add that hilarity ensued.
Here's the video of the show — I hope you enjoy it and that your holidays are thoroughly splendiferous!